Happy New Year everyone for 2009 from me here at How About A Wii!!
Even Google is wishing everyone Happy New Year with a change in logo!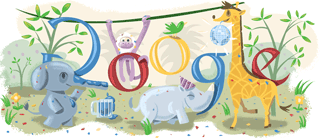 I hope everyone who received/bought a Wii last year has enjoyed it!
My Wii was the centrepiece to the party that I attended for Hogmanay last night here in Scotland (where I spent it!) Playing Mario Kart, Wii Fit, and Wii Sports for hours on end! Jools Holland and his Rhythm and Blues Orchestra didn't get a look in!